1st Sunday: "Madonna-Rama" w/DJ Riley York
6-10pm Happy Hour: $10 craft draft pitchers
$12 Long Island pitchers
2nd Sunday: New Wave 80s night w/DJ Greg Haus & guests
Last Sunday: Bittersweet: Ethereal, dreampop, shoegaze, goth, darkwave, post-punk, coldwave,
new wave & more.
Drink Specials: $3 Berlin Bombs (now with Absolut), $5 "Tropical Sex" pints, $4 Honey flavored Whiskey (Jack/Jim), $2 PBR , $3 Corona , $4 Kraken Rum , $6 Stoli
---
Sun. 10-30-16:
HALLOWEEN EVE
Berlin presents SadHaus in
The Fame
Monster Mash

Doors at 9pm. Show at 10pm,

Followed by a Lady Gaga "Little Monsters"
inspired Costume Contest with Prizes.

DJ Ariel Zetina until 4am.

$2 PBR / $3 Corona / $4 Kraken Black Spiced Rum / $6 StolI
Poster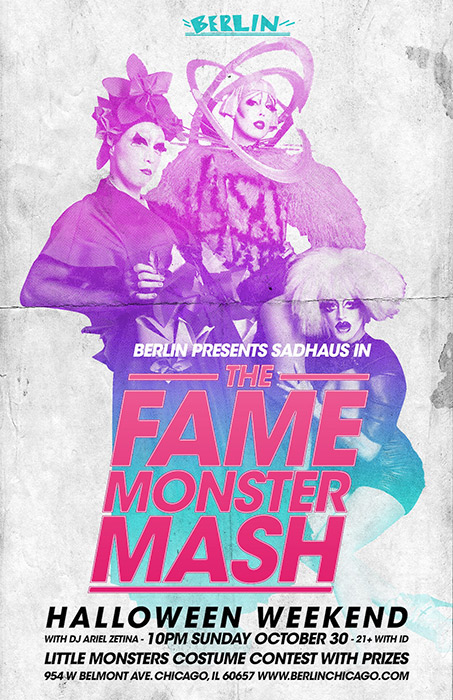 ---
Sun. 11-6-16:
Madonna Rama
All Madonna music, video and remixes
with DJ Riley York 10pm until 4am.
$2 PBR / $3 Corona / $4 Kraken Black Spiced Rum / $6 Stoli Vodka
---