Resident DJ: VoxBox
Drink Specials: $3 Berlin Bombs (now with Absolut), $5 "Tropical Sex" pints, $4 Honey flavored Whiskey (Jack/Jim), $2 PBR, $4 Fireball, $5 Stoli
---
---
---
Tue. 9-20-16:
Squad Goals
Team drag night with squads of drag dolls doing solo and group performances, 10:30 pm

Host Joonage A Trois

DJ Greg Haus

$2 PBR / $4 Fireball / $5 Stoli
Poster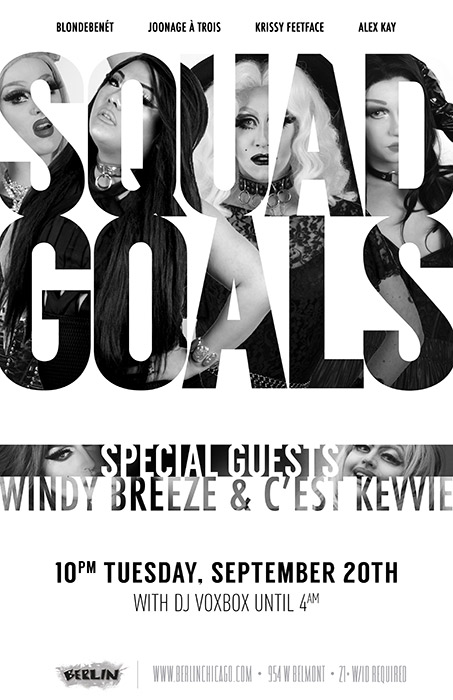 ---
Tues. 9–27-16:
Truth or Bare
Strip Trivia Night, where 9 contestants test their knowledge in this trivia competition with a twist for a chance to win a $75 party prize. Take first place or take it off!

Contest starts at 11:00pm, featuring a special performance by hostess Alexis Bevels.

No Cover Charge.

DJ Voxbox until 4am.

$2 PBR / $4 Fireball / $5 Stoli Vodka
Poster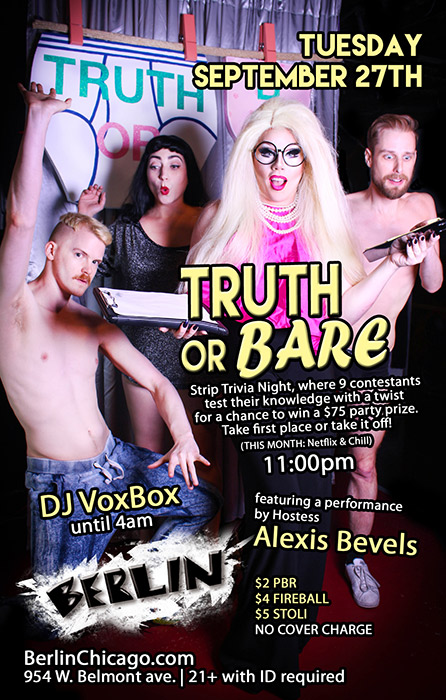 ---
Tue. 10-4-16:
Featuring Dixie Wins A Talent Show
While Alexis Bevels Stage Manages
at 9:30pm,
It's a rigged talent show where Dixie Lynn Cartwright always wins, the audience picks who wins prizes for second and third place, and Alexis Bevels cleans the stage and plunges the toilet.
DJ Voxbox til 4 am
$2 PBR / $4 Fireball / $5 Stoli
---
Tue. 10-11-16:
Out-Synced
Lip synch to your favorite songs on stage at 11:30 pm
Best syncer gets a $50 party prize, plus additional prizes for 2nd & 3rd place winners
Host Jerfay
No Cover Charge.
DJ Voxbox.
$2 PBR / $4 Fireball / $5 Stoli
---